Cruise Time Schedule
---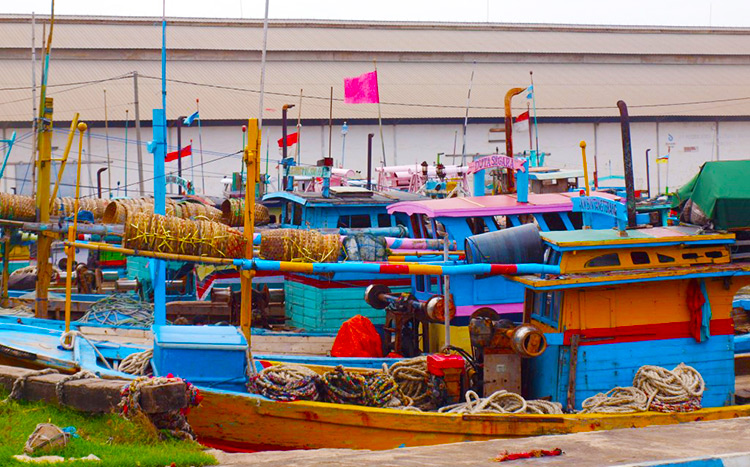 One of the pleasures of vacation is to immerse yourself in the everyday life of your host city. And what could be better than a day full of exploring, shopping and eating? You'll travel by pedi-cab during this full-day excursion, but to make your day even more enjoyable be sure to wear light, tropical clothing and comfortable walking shoes, as well as a hat, insect repellant, and adequate sun protection. Remember to bring your camera, you're sure to capture intriguing images to share with all your family and friends back home.
Your adventure begins when you hop aboard your coach at the pier and ride past City Square. The lovely flower garden, children's playground and bustling street vendors make the park a favorite with local residents.
Travel past the Great Roudhlotul Jannah Mosque, which sits on one side of the square, and continue by pedi-cab to Gereja Merah, or Red Church. Built by the Dutch in the 19th century, the colorful and quaint church is home to a Bible that dates back to the 16th century.
Next, gain insight into the city's 700-year-old history with a visit to the Probolinggo Museum. Enjoy a traditional dance demonstration and snacks while admiring the 190-year-old Dutch Colonial building. Outside, you'll find a fine collection of agricultural equipment, traditional vehicles such as a ciker, which is a wooden cart pulled by two oxen, and fascinating information about the area.
Fully embrace the city's art and culture at your next stop with a visit to a traditional market. Here, you'll find the locals shopping for fresh vegetables, fruits, ox meat, fish, herbs, rice, sugar, as well as clothing and household wares. Reboard to your coach and proceed to the Batik Work Shop.
Did you know that the word batik means "to dot"? Or that the roots of batik date back 2,000 years? Discover these fascinating facts and more with a visit to one of the oldest batik design centers in Probolinggo. Here, you'll witness this centuries-old art form while learning that each city has its own unique design. Probolinggo is no exception. Proud of the area's local fruit, the city's batik motifs include mangos and grapes.
Back on the pedi-cab you'll journey next to the resplendent 142-year-old Chinese Temple, which is known locally as Sumber Naga Temple. Finally, as your exciting day of exploration and understanding comes to an end, your coach will return you to your waiting ship, enlightened and charmed by this exciting experience.

Latest News
Gili Ketapang Gili Ketapang is a village and a small island in the Madura Strait, exactly 8 km off the north coast of Probolinggo. Administratively, the island includes the District of Sumberasih, Probolinggo, East Java. Its area is about 68 hectare, and most of the inhabitant are Madura tribe whose live as fisherman. The population of the island is known for relatively affluent. Gili Ketapang is one of natural destinations in Probolinggo. The island is connected to Java island, which can be reach by boat through the Port of Tanjung…
---
Mask Puppet Mask puppet is other form of Puppet shows in East Java. Mask puppet is growing in Malang, Probolinggo, Situbondo and Sumenep. The show is like a human puppet, which the puppet played by the human players using mask. The story itself based on Mahabarata and Ramayana classic story, but in Topeng of Malang, there is also Panji's story, a classic Javanese hero. More info www.eastjava.com
---
Tenggerese People Tenggerese or Tengger People is one of Indonesian tribes that live around Bromo Mountain which located around Pasuruan, Lumajang, Probolinggo and Malang Regency. The Tenggerese are the descendants of the Majapahit Princes. Their population is about 600.000 inhabitants within thirty villages. Tenggerese are being known as obedient Hindu followers. For them, Bromo Mountain is sacred. In once in a year they held ceremony of Kasada or Yadnya Kasada as a thanks giving to the Lord. This ceremony is always held in midnite in full moon time around date…
---
Tengger People Tenggerese or Tengger People is one of Indonesian tribes that live around Bromo Mountain which located around Pasuruan, Lumajang, Probolinggo and Malang Regency. The Tenggerese are the descendants of the Majapahit Princes. Their population is about 600.000 inhabitants within thirty villages. Tenggerese are being known as obedient Hindu followers. For them, Bromo Mountain is sacred. In once in a year they held ceremony of Kasada or Yadnya Kasada as a thanks giving to the Lord. This ceremony is always held in midnite in full moon time around date…
---