East Java Beaches and Marine
LOMBANG BEACH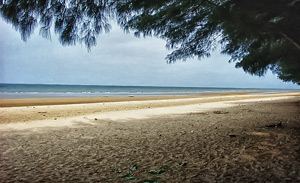 Located at Lombang Village, Batang-Batang Sub District, Sumenep, about 28 km East of the town, Lombang Beach covers a total area of 14 hectars. Local endemic plants called Cemara Udang (Casuarina tree), coconut, and palm trees grow well at the browny whitesand beach.
The extraordinary tradition of the local people of Legung Fishing Village near the beach is their habit of sleeping on white sands. Such tradition can only be seen in the village.
Accommodation : Non-star hotels are available in the town of Sumenep.
Facilities : Lombang is an ideal place for sun bathing, boat sailing, and restaurants are available in the town of Sumenep. It's also equipped with an open stage for cultural performances.
Transportation : Minicars from Sumenep to Lombang are available especially on fish market seasons.
SLOPENG BEACH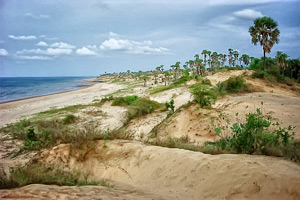 Slopeng Beach is a tourism object located about 21 kilometers to the north from the center of Sumenep town. It is located in Slopeng village, Dasuk district. The beauty of this natural tourism object is seen from the cluster of the mountains. Slopeng beach has clean white sand, the beautiful natural scene, the coconut tree, and siwalan tree on the left and right side.
There are sand hill and fisherman canoes here. There are many foreign tourists and domestic visit here, both in holiday or weekend. You can also learn about the characteristic of society around who have the unique characteristic.
CAMPLONG BEACH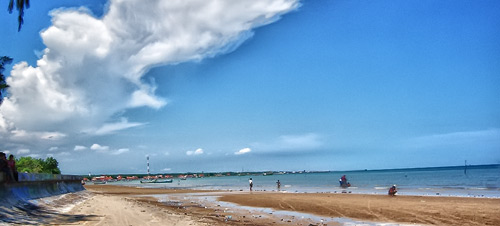 Camplong is located on the Sampang - Sumenep road. Covering a total area of 3 hectares, the beach is beautiful and is always full of visitors especially on Sundays and holidays. The beach which is only 10 kms from Sampang is also completed with cottages for visitors from out of Madura who want to stay over night here.
For more information, please contact :
Disparda Kabupaten Sumenep (Sumenep Regency Tourism Service) Jalan Dr.Sutomo no. 5, Sumenep, Telp.(62-328) 667148
Next