Museum & Keraton Sumenep
---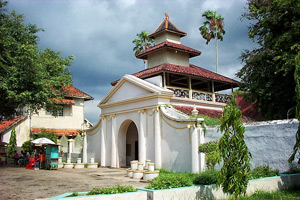 One hundred meters eastern of Adipura Park is the location of Museum and Keraton (Palace) Sumenep. The old building on the right side of the road is a place for keeping a gold carriage, a gift from Queen of England to Sumenep King. Beside that, it is also used to keep other inheritance, like; old chairs, old table and the other inheritance.
Sumenep Royal Palace (Keraton) is listed in front of Museum. This palace was built in 1762 in the reign of Tumengung Arya Nata Kusumo I. It consists of Gate, Pendopo, Palace itself, old Palace and Sare Park. The Gate is located in the left side of the palace. It is a great gate with Europe style. It is popular called Labang Mesem (Smiling Gate), an entrance way to the palace complex.
Pendopo ( a meeting hall ) is a hall placed in the center of palace complex used for holding a meeting. It is a simple but unique building completed with beautiful style. The building that related pendopo to the palace called Mandiyoso. It is a building about 25 meters long from the palace to the Pendopo.
Sumenep Palace consist of two floors. The first floor has four rooms. Two of them on the right side and the others on the left. The second floor is a a place for keeping the princesses when they would come to a marriage.
On the right side of the palace there is also an old building named Kantor Koneng. In the last time, it was a palace of Bindoro Saod before he handed to his successor. Now on, it is functioned to keep many kinds of old weapons used in long ago, old traditional ceremony tools, old bracelets and rings of people in the long time and the others. On the back of Kantor Koneng there is a building functioned as museum to. It is used for keep the remnants of Sumenep Royal Palace, the uniform of king, some old chairs and beds, and the new one is a skeleton of hawk found on the Kalianget shore in 1977.
On the left side of Pendopo is Sare Park. It is a park with a small swimming pool of which the water come out from base. In the last time, it was used specially for the princesses.
Photo Gallery

Latest News
Not inferior to other cities in East Java, Madura Island also has interesting natural beauty. Each region has its own charm, Sumenep is no exception. In addition to its delicious culinary, Sumenep also has beautiful islands. Some islands even still have few visitors. Curious where is it? Check out this list of the most beautiful islands in Sumenep, Madura, East Java! White sand and clear water, Gili Labak is one of the favorite destinations for tourists. Every corner of this island feels Instagrammable. Gili Labak or Gili Lawak, is one…
---
Sapangkor Besar Island Sapangkor Besar island is one of islands in Kangean archipelago. It administratively located in Sumenep regency, Madura, East Java, and lies between Sapangkor Kecil in the west, Saur island in the east, Paliat island in south and Bali island in north. Sapangkor Besar is such a rich and fertile island, which all of the nature sources are available like agriculture, plantation, salt works, forest, and fisheries. The nearest island to this Sepangkor Besar is Sepangkor Kecil, and we can cross by using small boat or even by…
---
Mamburit Island Mamburit island is one of islands in Kangean archipelago and it administratively located in Sumenep regency, Madura, East Java. Mamburit Island is located on the western side of Kangean island and it lies for about 500 M and an approximately length of 1,000 M for which on the north coast is having 1 km in length. There is a lighthouse in the island, and it can be reach during the sunset to see a dramatic nuance of the twilight. The island has a population of approximately 1,000 people,…
---
Pagerungan Besar Pagerungan beasar is one of the islands in Kangean islands group. The island is located at the east of Pagerungan Kecil island. Administratively, the island is located in the Sumenep, East Java, Indonesia. Pagerungan Besar Island is such a remote island that located within 60 Miles of Bali island. From the historical records, Pagerungan island had been invented and populated since the early 1910s. But now the island has been etched in the history of oil in Indonesia as a natural gas-producing region. Until now many oil companies…
---