Packet Tour Special Enthusiasm Tourism
09.30 - 10.00
Special EnthusiasmcTour Of Technology
Around Madiun City trace the city angle corner, continued go to the special enthusiasm tourism of IPTEK Environment (ARBORETUM / forest of Madiun City) or special enthusiasm tourism of Industrial IPTEK of Train PT INKA. Arboretum in training center and human Development of perum Perhutani can be exploited as place which is suited for learning pratice of botany and dendrology in order to recognized various plant type therewith its characteristics, worthwhile for human life. And also as recreation medium, with the fresh and calm atmosphere, the cold individuality will be at the forest truthfully. Be resting here will become free and can do relax in this location you'd be at phase called by "peace break".
10.00 - 12.00
Enthusiasm Tourism Of Train Industry PT. INKA
PT Inka represent the one of train industry in Indonesia standing in 1981 which is located in Yos Sudarso Street broadly area 220.000 m2 with the labour as much 974 people. The products of PT INKA for example 1. Passenger Wagon 2. Goods Wagon 3. Cart of Rel Electrics (KRL) 4. Open Wagon 5. Gashholder Wagon 6. Mouseder Card 7. Mobail Mediacal Car (MMC).
12.00 - 14.00
Pilgrimage Tour Going To Kuncen Grave
Arrive at Kuncen grave pray dhuhur and lunch. Kuncen grave represent a grave which sacred and respected that is also trusted has much blessing. There is a grave stone writing down in Ancient Java letter and represent the remain of battle field of Mataram army with Purbaya soldier (Madiun). In the tomb, had buried
1. Ki. Ageng Panembahan Ronggo Djoemeno
2. Mangkunegoro I (Bagus Raden Mas)
3. Mangkunegoro II (Prince of Duke of Keniten Martoloyo)
4. Mangkunegoro III (Kyai Irodikromo / Prince of Duke Blitar).
14.00 - 16.00
Typical Artistry Of Madiun People At Amusement Park
To see some artistic of typical culture performance of Madiun City, for example: Tayung Ronggo Lawung Dance get from typical artistry of Madiun City "gembrung" depicting adolescent of 'santri' (Muslem student) exercising in the advocating effort and warrior of Retno Dumilah.
Arboretum / Environmental Tourism
Arboretum represent the farm by various type of plant species. Located in (the development of training center and human resources) Puslatbang Perhutani Rimba Mulya Street 11 Madiun. Functioning as place of plant recognition before all worker plunged in the Forest. Covered an 1,75 Ha area with the collection of various plants types. Every tree tagged there with the latin name and its set of relatives. This arboretum in perum Perhutani, the Development Human Resources and training Center fungtioned as: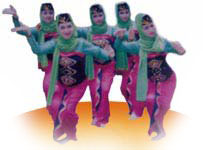 As place which is suited for learning pratice of botany and dendrology in order to recognizing various plants typse there with its characteristics, and also utilize and its benefit for human life.
As the lung of Madiun city, or forest city. Because can less the air pollution, and change the more air, and will influence the local micro climate.
Place for recreation, with the fresh and calm atmosphere, with the cold individuallity will be at the forest truthfully. In this location you'd be at phase called "peace break"
As Medium play for adult and children having the character of (game by Fun), venturing on utilize to train the bravery and independence and suited for peaceful outbound children.
Besides arboretum of training Center (Pusdiklat) and perum Perhutani, training institute which can be used to get wise about forestry, through public, agro forestry, social forestry, etc.
Puslatbang SDM also provide the hostel which can be used for the public activity, institue and also institution covering hostel, main building, meeting room, space of class and also library of forestry and management.

Latest News
Madiun Madiun regency, is the western town on East Java before entering Central Java. Madiun is surrounded by famous mountains like Wilis Mountain to the East, Kapur Selatan range to the south and Lawu mountain to the West. Madiun also noted as a significant city from the Indonesian History because there of the uprising of Communist Party of Indonesia [G 30 S PKI] which was had thousands of death. At early begin, Madiun was under the territory of Sultanate of Mataram. On Madiun history, noted that Madiun was a strategic…
---
---
---
---