Maharani Cave
---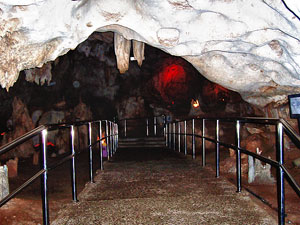 Maharani Cave, is located in Tanjung Kodok sea tourism area, Paciran district Lamongan regency, about 200 m from Tanjung Kodok gateway fringe the roadway to east. About 50 m in the south of the street, there is stone that its soil is tire to form the bank that has downwards. Here, some labourers had mine the coral soil, phosphate material and dolomite fertilizer that had sold out of Paciran region. On this area, is a countryside road, which is the footpath, and every day passed by non irrigated dry field farmers, the stone mineworker workers, also once in a while is crowded passed the boy scouts who performing a camp around the area.
This Maharani Cave found by 4 labourers who being led by Mr. Sugeng. This cave had found on 6 Augusts 1992. The name of this cave had selected by the situation of the beautiful cave like a palace from a beautiful queen. Before the invention, one of the members, had dream, she had met with a beautiful woman who had a beautiful as the property of a queen that called Maharani. The queen seems to be a head time door of the cave that had found. The name of this empress has specified by the fact of this cave condition. In platform of the cave named Paseban Maharani, there is stone which has crown form, the property of a queen, which named "Selo Mahkota Maharani". This beautiful cave room also alike an empire palace of subterranean that is full of graven pillar and roof.
The situation of the nature cave of Maharani Palace is stay at 200 m from Java seashore residing in Tanjung Kodok area, Paciran district, Lamongan regency. This cave is easily to visit and fluent to obtain the transportation towards to the location.
Photo Gallery

Latest News
Wingko Wingko is one of Indonesia traditional foods. People recognize this food as Wingko Babat from Semarang, Central Java. Whereas, Babat is a small town in Lamongan Regency, East Java. And it is true; this food is particularly Lamongan traditional food. Wingko is a typical of cake which made by coconut and sticky rice. It taste sweet and savoury at the same time, and having chewy texture in every bite. It mostly having round shape or in small round flips. The taste of savory from the coconut milk that blend…
---
Caping Dance Caping Ngancak Dance Caping Ngancak dance is one of traditional dances in Lamongan regency. The dance is describes about farmers in their rice field showing the process from grow the rice until they get harvest. Like farmers, the dancers also wearing 'Caping', which is a special hat that only wore by farmer in Indonesia. This dance is performed by group of young females who wore village costumes in modern style and bring Caping as the main property. www.EastJava.com
---
Soto Lamongan This food is one of the famous foods in entire Indonesia. Soto, is such a beef or chicken soup. In some regency in East Java or even in Indonesia have their own type of soto. The most famous one is coming from Lamongan. Soto Lamongan have rich ingredients that mix together into a bowl completed by hot spicy broth. The condiments are: rice, glass noodle, chicken shredded, chicken liver, young egg, boil shredded egg, fried onion and celery. Do not forget the sambal sauce to make it hotter…
---
Wingko Wingko is one of Indonesia traditional foods. People recognize this food as Wingko Babat from Semarang, Central Java. Whereas, Babat is a small town in Lamongan Regency, East Java. And it is true; this food is particularly Lamongan traditional food. Wingko is cake made by coconut and sticky rice. It taste sweet and savoury at the same time, and having chewy texture in every bite. It mostly having round shape or in small round flips. It sweet everyone… www.eastjava.com
---