Srikandi Hotel in Pacitan - East Java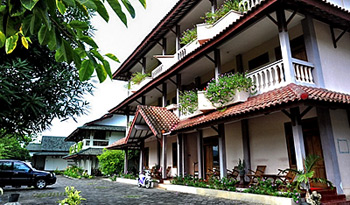 The open space hotel in Pacitan, East Java - Indonesia which popular with its gorgeous beaches and surfing spots. Srikandi Hotel is simple, clean, and comfort hotel. This hotel is perfectly located for both business and leisure guests to Pacitan.
All 20 rooms at the hotel are well-appointed with necessary amenities to ensure that each guest's satisfaction: 3 VIP rooms, 3 Superior rooms, 10 standard rooms with air conditioner, 4 low-budget rooms without air conditioner and completed with many choices of breakfast menus.
Each guestroom features amenities such as shower, non smoking rooms, complimentary bottled water, air conditioning. The basic amenities provided at this Pacitan accommodation comprise car park in front of the rooms,  free wi fi, drug store, restaurant, meeting room (end of 2012), 24 hours room service.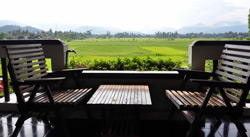 The restaurant has 60 seats capacity, serves oriental cuisine, Indonesia, and western. Moreover, the restaurant also serves lunch box, snack box, and outside catering.
Srikandi Hotel has natural garden to provide extra pleasure and relaxation for all guests. It is surrounded by rice field providing fresh clean air and natural environment. With elegant those facilities and hospitality, guests at this hotel will surely have an impressive stay.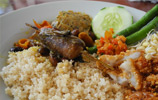 Tiwul Lengkap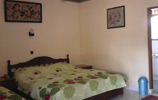 Room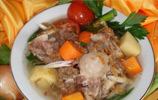 Sop Buntut
Contact us:
Srikandi Hotel and Restaurant
Jl. A Yani 67A Pacitan- 63514
Phone: (0357)881252, 885900
Fax: (0357) 883311
Email/ FB: srikandi_pacitan@yahoo.com