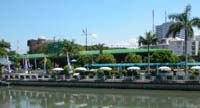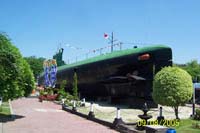 KRI. Pasopati with 410 side number belongs to SS type whiskey class built by Vladi Wostok Russia in 1952. It has been with Indonesia Navy since 29 January 1962 and carried out dutief to destroy enemy line, to be surveillance and acts as silent raids. KRI. Pasopati bought ctivelly for independence and national supremacy in the past. It was the front line during Trikora Operation, gave psicological presure so that west Irian could be gain back and other important operation.

There had been fourtheen lieutenant commander who was in charge of the Submarine.

The first Commander Lieutenant was Sigit Yoto Sudirdjo and the last one was liutenant Commander Imam Zaki.

KRI. Pasopati was drown from its duty line on 25 January 1990, market by military ceremony.
Diplacement tons
: 1048 surfaced, 1340
Dimensions, feet (metres)
: 249.3 x 21.3 x 16.1 (76 x 6.5 x 4.9)
Torpedo tubes
: 6-21 in (533 mm), (4 bow, 2 stern)
: 12 torpedoes carried ( 0r 24 mines )
Speed, knots
: 18 surfaced, 14 dived
Range, miles
: 8500 at 10 knots (surfaced)
Main machinery
: Direct drive or diesel - electric, 2 diesels; 4000 Bhp
2 electric motors, 2700 hp, 2 shaffs
Complement
: 63 (8 officers, 55 men)

The Submarine Monument is the original shape of Pasopati 410 as one of Submarine that belongs to the Submarine unit Eastern fleet.
The first renovation on the monument started on 1 July 1995 and the first stone put by East Java Governor, Basofi Soedirman accompanied by Gofar Soewarno vice admiral of the Eastern fleet.
The same time on PT.PAL Indonesia, KRI. Pasopati was cut in sicteen pieces. The sixteenth pieces was brougt to the location and jointed so that KRI.Pasopati has been the original shape.
Submarine Monument officialed by Chief Staff of Indonesian Navy Admiral Arief Kushariadi on 27 June 1998 and was opened on 15 July 1998 for the public.