APPLE, FLORA IDENTITY OF MALANG REGENCY

---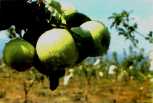 Apple tree in Indonesia (especially in Malang) began to be known about the year 1908 before Indonesia proclaimed the independence. The Ducth was the first people who broughtit, and rearched good areas for apple growing. Batu is one of them, and above all it is the most suitable. The first apple variety grown in Batu was Rome Beauty.
About 1969, after Indonesia got its independence, the "Banaran Garden Institution" found a new apple variety,namely Manalagi Apple. The man who found it is Mr. Surahmat Kusumo, a senior fruittracker from "Balai Penelitian Hortikultura Pasar Minggu" (Horticultural Research Institution Pasar Minggu) Jakarta. This new variety was from Gandon village, because this variety was not found in Holand and other parts of the world; so this variety was finally considered as an Indonesian Apple. And, because of its nice taste, this apple is called "Manalagi" (Javanese, means: give me more)

Specification:
· Manalagi Apple = ( Makus SylvesTriss Mill)
· Colour
- :Skin. = whitish green or greenish white
- Meat = white
· Taste: sweet and gives good & nice smell.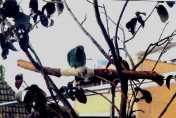 CUCAK IJO BIRD
Cucak Ijo Bird is the mascot of Malang Regency. It belongs to the chloropsis sonnerati group. The bird has a beautiful voice. It lives in the foresh with small river in south Malang and another areas in Malang Regency.
THE DESCRIPTION OF CUCAK IJO BIRD IS:
· The father has a green colour.
· The male bird has a black colour from the face to the neck and black bill,
· The male bird has a black colour from the face to the neck and black bill, but the female one has a yellow colour and brown bill.
· A part of the wing has a blue colour.
· It has a long neck and black eyes ?
· It eats fruits and insects.

Salak Suwaru (Salaca Indica )
This Salaca, a special kind of tropical fruit produced at the village of SUWARU for the first time, and then popularized around the village, now has been well-known all over Indonesia.
We can find this fruit not only in Malang, but also in Surabaya, Mojokerto, Kediri, Jember, Gresik, Banyuwangi, and many other cities in East Java.
This fruit has a special taste, good aroma and very nice. The location of Agribusiness "SALAKA" Group is at Suwaru village, belonging to Gondanglegi Sub District (+ 25 kms away to the south of Malang). Phone. (0341) 879451.
The qualification
- AA Class 10 to 12 fruits / kg
- AB Class 13 to 15 fruits / kg
- C Class 16 to 20 fruits / kg.