Sunan Giri, born in A.D. 1442, is a son of Maulana Ishak coming from Samarkand and Dewi. Sekardadu, the princess of Prabu Minak Sembuyu, from Blambangan, Banyuwangi. He was surnamed Abdul Faqih, Syeh Maulana Ainul Yaqin as well as Raden Paku. In addition, he was also known as loko Samodro. It was said that when a baby, he was put in a box and thrown away to "samodra" (meaning boy of the sea ). Fortunately, the box was found by the the employees of Nyai Ageng Gedhe Pinatih, the merchant of Gresik, in the Bali Strait. When the box was opened, the baby was found safely, therefore, he was called Joko Samodro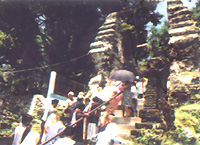 After receiving Islamic education from Sunan Ampel in Surabaya, he settled in Gresik and started to spread Islamic faith. He used Javanesse traditional culture as his mode of teaching. He also composed many Javanese songs, such as : Asmaradana, Padhang Bulan etc. After the death of Sunan Ampel, he was also considered to be the older brother among the saints, who had the duty to judge Syeh Siti Jenar's case. In A.D. 1506, he died and was buried in Giri Gajah Village-Kebomas Subdistrict, Gresik Regency, 3 km from the city and can be reached with both public transport and private vehicle.
Visit : Sunan Giri Website

Sunan Bonang, whose first name is Raden Makdum Ibrahim, is the son of Sunan Ampel. Having received religious instruction from his father, he settled in Bonang, Tuban Regency and spread Islamic faith there. In spreading Islamic faith, he used "bonang", a kind of Javanese music set, to attract the people. When they had been gathering, he began to give them religious instructions. It was also said that it was him who had conquered and guided Raden Said1 Sunan Kalijaga, to be a member of WaliSanga, nine saints.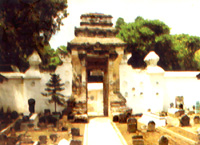 In A.D. 1525, he died and was buried behind Jami' Mosque in Kuthorejo Village Tuban Regency. Thus, those who want to visit the tomb can use public transport or their own vehicles.
Visit : Sunan Bonang Website