About Bojonegoro Regency
---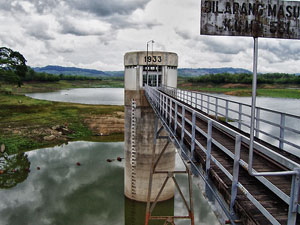 Indonesian history was marked by the strong influence of Hindu culture that came from India since the first century, which is distinguished the history life of Indonesia in the Middle-level time and the modern time. Whereas, Bojonegoro still in Majapahit authority territory, until in XVI century when Majapahit kingdom had collapse, the authority moved to Demak, Central Java. Bojonegoro became Demak royal territory, so that Bojonegoro history that had Hindu characteristics. The fact that took from the discoveries of many legacy objects of the history in the law territory of Bojonegoro Regency began to be formed. The slogan that was buried in the community's tradition from Majapahit period "sepi ing pamrih, rame ing gawe" is continues to be owned to now.
Bojonegoro as Demak royal territory had high loyalty to the king and the kingdom. Afterwards when the new power expansion that is Islam, the influence of Hindu culture was urged and happened the shift value and the community's order from the old Hindu value to the new Islam value without unrest. Raden Patah, Senopati Jumbun, dipati Bintoro, was declared as the king I in the early of XVI century and since then Bojonegoro become Demak sovereignty territory. In the authority transition that was accompanied by the upheaval, brought Bojonegoro to Pajang Kingdom royal territory with the king Raden Jaka Tinggkir 'Adipati' of Pajang during 1568. Prince Benawa, Sultan Pajang son, Adiwijaya felt not able to oppose Senopati that seized Pajang Kingdom authority in 1587. Then Senopati shifted all the objects of the palace heirloom of Pajang to Mataram, so then Bojonegoro again shifted into Mataram royal territory.
Mataram area that was handed over by Sunan Amangkurat to VOC was based on an agreement, was the north coast of the Javanese Island, so it damage Mataram. The agreement in 1677 was the defeat of difficult politics for Mataram against VOC. Because of that, the status of 'kadipaten' then was changed into the regency with the district chief the Regent Mancanegara Wetan, Mas Toemapel who also double as the Regent I that was located in Jipang on October 20 1677. Then the date, the month and this year were determined as the anniversary of Bojonegoro regency.
During 1725 Susuhunan Pakubuwono II got the throne. The same year, Susuhunan ordered to Raden Tumenggung Haria Mentahun I to moves the centre of Jipang regency government from Padangan to Rajekwesi Village. Rajekwesi location is about 10 Km in south of Bojonegoro city. As the memory in the success of the ancestors that left the fragrant name for Bojonegoro, it is not surprise if Rajekwesi name is still continues to be recalled in the heart of Bojonegoro people up to now.

Latest News
Malo Handicraft Beside the foods and tourism attraction, Bojonegoro has anything different that interesting to find out, which is the furniture and handicraft products. Bojonegro is famous as one of teak wood producer in Java island, it is because Bojonegoro … Continue reading →
---
Khayangan Api The name of "Kayangan Api" is a fire source that never die, located in the forest in Sendangharjo village, Ngasem district, a village that has about 42,29% jungle area of the village width. According to a story, Kayangan … Continue reading →
---
Hok Swie Bio Temple Hok Swie Bio Temple is one of religious place in Bojonegoro. It is Tri Dharma religious place and famous with its Dragon Head design. It looks like a chinese area, because the design is seems like … Continue reading →
---
Tirta Wana Dander Next south of Bojonegoro city about 13 km, there is nature tourism object and artificial tourism object, precise in Dander village, Dander district, that famous with Tirtawana, Tirta meaning Water and Wana meaning that the Forest. It's … Continue reading →
---