Soekarno's Grave
---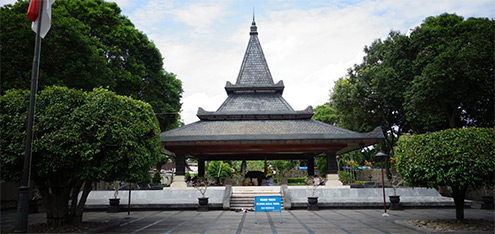 As a pilgrimage tour with historical background, Blitar has Sukarno's Graveyard, The first Indonesian President, that always been crowded every day. This graveyard is located in the Bendogerit Village, Sanan wetan District, Blitar. The tomb of the first president of Indonesia is lies on the land area of 1.8 m2. To reach this location is easy, from the main square of Blitar is only about 2.5 km drive; from the station about 3 km; while from the bus station is about 6 km.
There are several access to reach this graveyard, one of those can be reach from Kalasan street or Ir. Sukarno street. At this gate, the visitors are required to sign the guest book and the purpose of the visit. From the guard post on the right is a library and Bung Karno museum, while on the left side is Bung Karno's Graveyard.
Bung Karno's grave is located in the north building of libraries and museums. Characterized by a large gate as the entrance. Entering the courtyard of the tomb, we will see a building shaped in joglo. This cone is named Astono Mulyo. Above the tomb there is a black marble stone reads:
"Here is buried Bung Karno Proclaimers of Independence and the First President of the Republic of Indonesia. The Indonesian Speaker."

Latest News
Serang Beach Serang beach is located in Serang village, Panggungrejo sub-district, it 's about 40 Km from Blitar city. This beach is stunningly beautiful. The sea water has turquoise color and strong waves, typical of Indonesian south sea. Moreover, the … Continue reading →
---
Tambakrejo Beach is located about 30 km from Blitar city, in Tambakrejo village, Wonotirto district. In this location, in every first Suro month (the new year in Java calendar) is performed a "Larung Sesaji" ceremony, and visited by thousands people … Continue reading →
---
Karangsari Agro Tourism Karangsari Village, Regency of Sukorejo, Blitar is become popular because of the Star Fruit (Belimbing). What makes this star fruit become so famous is coming from the size, which has jumbo size, and it has sweeter taste … Continue reading →
---
Tambakrejo Beach Tambakrejo Beach is located about 30 km from Blitar city, in Tambakrejo village, Wonotirto district. In this location, in every first Suro month (the new year in Java calendar) is performed a "Larung Sesaji" ceremony, and visited by … Continue reading →
---