PETA Monument
---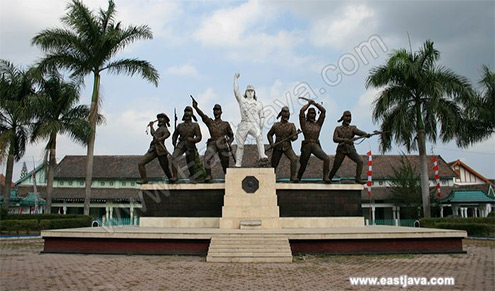 Since Blitar is one heroic cities in Indonesia, it has numbers of heritages that connected with Indonesian history during the colonialization. As we know, in 1945, Blitar city has become the center of PETA rebellion army, fight against Japan army that is leading by a Soedanco Soepriyadi. To honor the hero, it built a Monument, called PETA Monument.
PETA Monument is located in front of ex-PETA station, precisely in Jl. Soedanco Soepriyadi. The monument is formed a man statue that raise his right hand, as the symbol that he never give up to fight. This statue is also representing the struggle from Indonesian army againts Japan colonialization.
The statue seems wear Japan army uniform, complete with its hat. This monument is aimed to memorized this hero in order to support the young generations spirit in continue Indonesia struggle to become a great free country.

Latest News
Serang Beach Serang beach is located in Serang village, Panggungrejo sub-district, it 's about 40 Km from Blitar city. This beach is stunningly beautiful. The sea water has turquoise color and strong waves, typical of Indonesian south sea. Moreover, the … Continue reading →
---
Tambakrejo Beach is located about 30 km from Blitar city, in Tambakrejo village, Wonotirto district. In this location, in every first Suro month (the new year in Java calendar) is performed a "Larung Sesaji" ceremony, and visited by thousands people … Continue reading →
---
Karangsari Agro Tourism Karangsari Village, Regency of Sukorejo, Blitar is become popular because of the Star Fruit (Belimbing). What makes this star fruit become so famous is coming from the size, which has jumbo size, and it has sweeter taste … Continue reading →
---
Tambakrejo Beach Tambakrejo Beach is located about 30 km from Blitar city, in Tambakrejo village, Wonotirto district. In this location, in every first Suro month (the new year in Java calendar) is performed a "Larung Sesaji" ceremony, and visited by … Continue reading →
---