---
East Java, including Madura island, is conveniently located between 712' and 848' South latitute and strectches from 110 52' to 114' 42' East longitude. It's the perfect Indonesia place to stop - over on your trip from Bali to Jakarta, the capital of Indonesia.

We have the same climate as other parts of Indonesia, tropical with two seasons : wet seasons ( October - April ) and dry seasons ( May - Septrember ). The average temperature is 19' C up to 30' C. The native languages are Javanese and Madurese with the official langguage " Bahasa Indonesia " which is used nationwide. English is considered the foreign language commonly spoken by students, educated people, and travel industries in towns.
Dutch is also spoken by the older generation.

We represent a wide cross section of the people who live on the 13,677 odd islands of the Indonesian archipelago. There are so many ways to explore East Java .

More than thirty well - experienced tour agencies offer high quality service with many special options. Ask for somethings ? "Permisi" is how we say 'Excuse me " ! Friendliness and hospitality to visitors and newcomers have been our traditional traits. Find the rich culture - of Indonesia , explore this part of Java, you 'll find it right here.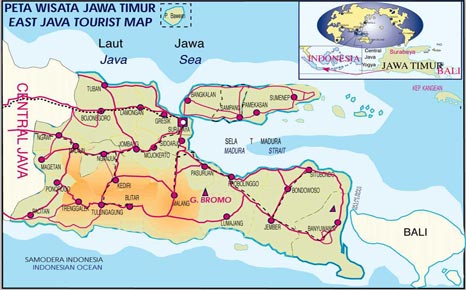 Places of Interest
| | | | | |
| --- | --- | --- | --- | --- |
| 1. Surabaya | 2. Tanjung Bumi | 3. Sumenep Palace | 4. Pakemasan the Grand | 5. Maharani Cave |
| 6. Sunan Bonang Cemetry | 7. Trinil Museum | 8. Lake Sarangan | 9. Trowulan | 10. Sedudo Waterfall |
| 11. Batu Hill Resort | 12. Malang | 13. Reog Ponorogo | 14. Prigi Beach | 15. Tamperran Beach |
| 16. Mt. Bromo | 17. Tetes Cave | 18. Bull Fighting Arena | 19. Ijen Crater | 20. Blauran NationalPark |
| 21. Pasir Putih Beach | 22. Plengkung Beach | 23. SukamadeTurtleBeach | 24. Kalikatak Plantation | 25. Balekambang Beach |
---