THE STONE'S TYPES
SCORIA STONES (VOLCANIC RED COLOUR)


You can use this big red stones to decorate your garden.
FOSSIL STONES

This stones derived from a stony wood. The special character of the woods still can be known and
that make the fossil stones very special. You can use them to beautify your garden, make a seat from them, etc.



CANDI STONES



Candi Stone are the same like the one used in making candi / temple (big building made by ancient people)

SAND STONES
This stones comes from mountain. That's why they are very unique stones.

YELLOW STONE

This yellow stone will give special meaning to your decoration work.
You can also use this stones as pillars and wall.
You can decide yourself the size you want to order.
We would you very happy to fulfil your demand.
| | |
| --- | --- |
| ROMA SAND and SAND BALL | RED STONES (JASPER) |
ONYX STONES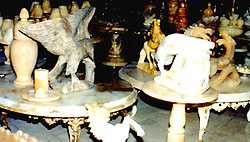 Onyx Stone can be transformed into various forms or designs like Table, Vases, Furniture, statues, etc .
BOWL STONES


The Uses - Decorating the garden, Aquarium, Terrace, Path, Wall, Fences, Floor, Flowers' Pot, etc


The Price - a Compatitive one.


The Quality- Good ( please compare ours with others ).
Why can we say that? Because of our pre-export process system.
THE PRE-EXPORT PROCESS
(especially for pebble stone) are:
We sieved the stone into sizes.
The sieved stones were chosen the bad form the good ones,
we only use the good quality for export market.
The good quality pebble were washed with soap and water to remove
all the unwanted material like mud and sand.
We take the stones into bags and sew the bag at the up side and below side
The quantity of the bag usually 20-kgs, But you can decide yourself
how many kilos you want to put inside the bag.
You can also decide yourself the printed mark to put on the bags
( If you want to put your own logo on the bag, send us the sample of it.)

OTHERS - For further arrangements and questions, contact the above phone numbers.