Sunan Kudus known as Raden Jakfar Sodiq, is a son of Raden Usman,
Senopati of Demak who settled in Jipang Pamohan, the north of Blora, Central Java.
Raden Jakfar Sodiq received religious teaching from Kyai Telingsing (The Ling Shing),
a scholarship from Cina and Sunan Ampel in Surabaya. Having completed his study,
he started to spread Islamic faith and centred his activities in Kudus, Centra Java.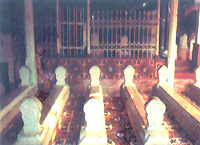 As a pioneer in spreading Islam in Java, he was known to have a very wise strategy and to be close to the local populace (Hindu and Budhist). This can be seen in the style of the building, such as the style of gate of mosque and minaret of Kudus resembling "Pura" and the style of "wudlu" place that includes 8 waterspouts. Above them he put the statues of "gumarang" bufalo's heads. They resemble with one of Budhist teaching, Asta Sanghika Marga ( 8 steps in life), Besides, he also created Mijil and Mas Kumambang songs. In A.D. 1550, he died and was buried in Kudus.

Sunan Muria, whose first name is Raden Umar Said, is a son of Sunan Kalijaga and Dewi Sarah. He focused his activities of spreading Islamic faith in Central Java.
It was the same as other saints, he also took care towards Javanese traditional culture, such as : gamelan, Javanese music set, the puppet shadow play and created "gending" Kinanthi and Sinom.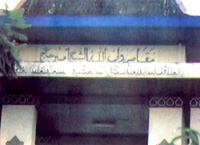 All of these cultural performances he used in his teaching and approaching towards local populace won him popularity, respect as well as the goal of his spreading Islamic faith. He was buried in Colo Village in the area of Mount Muria, the south of Kudus.