As a brother of Sunan Bonang, Sunan Drajat also known as Syarifudin or Raden Qosim, received religious teaching from his father Sunan Ampel. Having learned enough, he moved to the village of Jelag. Later the village was known as Drajat, Paciran Sub District, Lamongan Regency.

The same as the other saints, Sunan Drajat also used "gamelan", Javanese music set, as a media of his spreading Islamic faith. He created "Gending Pangkur", a kind of Javanese song, to convert the local populace. Some fragments of these instruments have been preserved and now can be witnessed in a small museum next to the Sunan Drajat's tomb in Drajat Village, Paciran Sub District, Lamongan regency.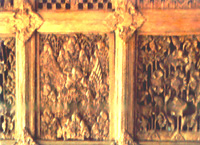 Visit : Sunan Drajat Website



Sunan Kalijaga, whose first name is Raden Said, is a son of Tumenggung Wilatikta, a regent of Tuban. Among then nine saints, he was known as the great peace maker and wise leader. He received religious teaching after an encounter with Sunan Bonang.

To spread Islamic faith, he centred his activities in Demak, Central Java and built a mosque there. It was said that the mosque was built in a single night by Wali Sanga. Sunan Kalijaga had a duty to prepare and make a pillar, but he arrived late. He had no time to prepare a tree trunk, therefore, he made up a pillar from planks leftover by the other saints. So if you visit there you'll find that one of the four pillars is larger than others, it is a creation of Sunan Kalijaga.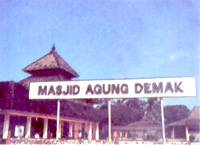 He also used Javanese cultural performance as a media of his Islamic teaching. Also, he had great contributions to the development of gamelan, Javanese music set, as well as the leather puppet shadow play. He created a layout of city, "gending Ilir-ilir" song, "bedug", Garebeg Mulud (a kind of ritual ceremony) and" Gong Sekaten". The later today is preserved in the Central Java nese courts of Solo and Yogyakarta.