THE RECREATION PARK OF SENGKALING

---
Provided with facilities such as: paddle-boat, swimming pools (local and international standard), special hot swimming pool, playground, tennis court, etc. can be found here. The recreational site of Sengkaling is intended to suit every age: children, teenagers and elders.
Situated at Malang - Batu mainroad which is always crowded with any kind of vehicles. there would be no transportation problem. It lies at the village of Sengkaling, a village belonging to Dau Sub District (9 kms away to the west from Malang).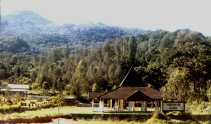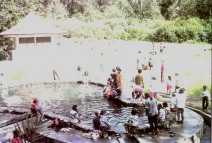 RADEN SOERJO CONSERVATION FOREST PARK
Taman Hutan Raya, that is more well-known as Cangar Tourist Object, is located at Tulungrejo village, the one belonging to Bumiaji Sub District - Batu, about one hour's drive to the northwest of Malang ( + 38 kms ). This tourist object, situated at the area among the mountains Welirang, Arjuna and Anjasmoro, has specially unique and fantastic panorama as well as fresh air. It also has special hot sulphuric springs that is never dry in all seasons. Every tourist who comes to visit this place can take a bath to remain the body fresh and healthy.