M A L A N G
---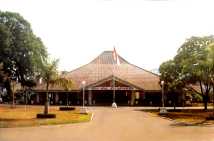 Malang, one of the cleanest and coolest cities in East Java has, without any doubt, been famous since a long time ago. Historical remnants are scattered around Malang Regency showing that it has played important role in many eras. Malang Regency his between 112° 17' 10,90" and 112° 57' 00,00" east longitude and extending from 7° 44' 55 11 up to 8° 26' 35.45" south latitude
Boundary: The Regency borders on Blitar and Kediri Regencies in the West, Jombang, Mojokerto and Pasuruan in the North, Probolinggo and Lumajang Regencies in the East and Indonesian Ocean in the South.
Malang Regency has 7 Districts, 1 Administrative Town, 35 Sub Districts, 16 Ward Administrative Units and 390 Urban Villages.
Malang, which is noted as one of the most fascinating towns in East Java, lies 90 kms away to the south from Surabaya, the capital city of the province. It is really a nice place to stay. Malang has now become the educational, industrial, cultural as well as tourist centre.
A large number of schools, ranging from elementary and secondary schools to universities, indicate the town as an outstanding centre of education.
Thousands of students from all over East Java and even those from other provinces flock to the town to study either in private or public schools.
In the mean time, a wide range of companies - some of which are the big Bentoel cigarette company which is quite popular among the ASEAN countries as well as European countries, Penamas cigarette company, coconut oil factory, 'Topeng' or Mask handicraft at the villages of Jabung and Kedungmonggo have become a familiar landmark in Malang Regency, showing evidently that the city is really an industrial centre.
As a centre of tourism, Malang has a lot of places of interest which are classified into local, regional, national and international standards, including traditional dance performances such as Tari Topeng (Mask dance), Jaran Pegon, Tari Beskalan (Beskalan Dance), etc.